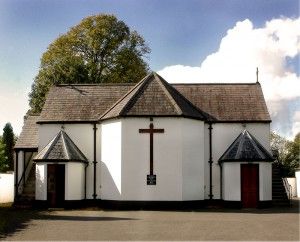 Church of the Sacred Heart, Rathcoffey 1710 – 2010
Rathcoffey—Coffey's Rath or Fort. The hill at Rathcoffey was a central gathering point on the high road leading from Tara to the Kingdom of Leinster. Rathcoffey was the residence of the Wogan family, the first of whom, John, Lord of Picton, arrived in 1295. Three Viceroys of Ireland were Wogans.
Archibald Hamilton Rowan, United Irish Activist in the 1790s purchased Rathcoffey Manor from Richard Wogan Talbot of Malahide. He levelled the old castle ruins and built a fine mansion on the site.
The Church of the Sacred Heart is a small stone structure with balconies on either side of the altar. It originally had a thatched roof. The church was built in 1710 by Lady Frances Jennings, wife of the Duke of Tyrconnel, Viceroy of Ireland. She was a Wogan of Rathcoffey. Her husband had died during the Seige of Limerick. She is reputed to have gone to France before the Duke's death. She returned to Ireland and joined the Order of Poor Clares at King St, Dublin.
The origin of Christianity in the Rathcoffey area began with St Mochua, who built monasteries at Clondalkin and Celbridge. In November 1974, the church was re dedicated to the Sacred Heart by Bishop Patrick Lennon. The church was completely refurbished in 1997 at a cost of £86,000.
Rathcoffey Church is the oldest post reformation Catholic church in the Diocese of Kildare & Leighlin and celebrated its tercentenary in 2010.