| | |
| --- | --- |
| Saturday Vigil | 6.30 pm |
| Sunday | 9.30 am & 11.30 am |
| Tuesday, Thursday and Friday | 10.00 am (except when funeral Mass) |
| Holy Days | (No Vigil) – 11am and 7.30pm only |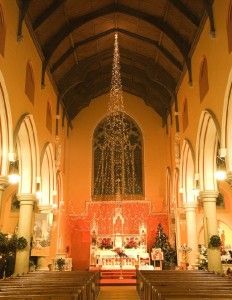 Clane—Claon Ath—The Slanted Ford. Clane Church was opened in 1884. It is Neo-Gothic in style. Its architect was William Hague. The Parish Priest of the time was Fr. Patrick Turner.
Clane had a monastery in ancient times and Colgan refers to a church at Clane prior to the middle of the 6th Century. St. Ailbe lived here for a time, and presented his cell to St. Senchell, who later founded a monastery at Killeigh, where he died in 549.
In the year 1162, a synod of the clergy in Ireland was held at Clane, attended by 26 Bishops and many Abbots. In the 1200's, Sir Gerard Fitzmaurice, second Lord of Offaly, founded a Francisan monastery at Clane.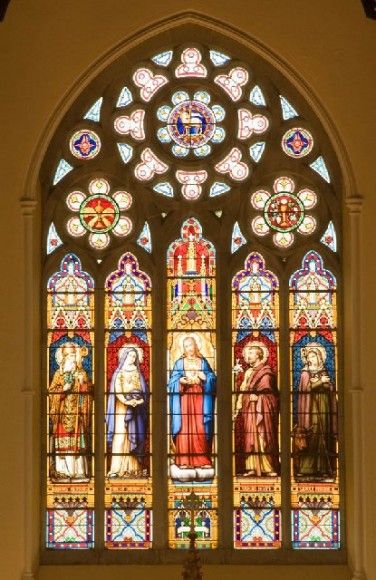 In 1839 the Presentation Convent was established. Forty years later the Sisters kindly offered their garden as a site for the new Church. The building was dedicated in 1884, in a ceremony performed by Bishop James Lynch. The limestone came from Mr. Marmion's quarry and cost 6d. per ton. (This was Matthew Marmion, uncle of the Blessed Columba Marmion). Granite came from Ballyknockan, Co. Wicklow. The proposed Spire was never built.
In 1993, a new roof was installed. In 1998, a new Baptistery was added.
The Convent, adjacent to the church, closed in 2003 and was recently renovated into our new Parish Centre on Main St, Clane.
After a fire in August 2008, the church was completely renovated, and together with the Parish Centre forms a significant and beautiful portion of the Main Street in the heart of the community.